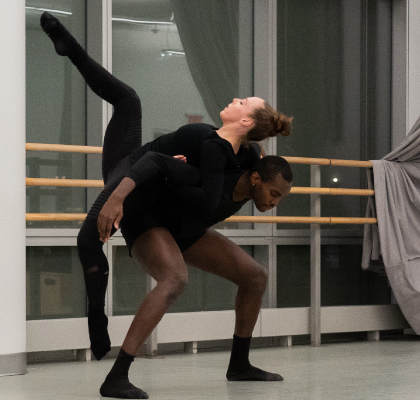 Winter Open Rehearsal
Wednesday, January 13, 2020 | 6:30-8:30 p.m.
The Ailey Studios, 405 West 55th Street, NYC | FREE
The artists and board of Amanda Selwyn Dance Theatre will hold a behind-the-scenes view of our creative process. The rehearsal will be followed by a wine and cheese reception.
With a focus on reflection and memory, Hindsight is an evening-length work that references signature structures from two decades of richly layered repertory and explores the growth possible from looking back at history. Hindsight premieres March 2020 at Baruch Performing Arts Center.
"Distinctive, off-kilter elegance" – The New Yorker. 
Hindsight will feature 12 Selwyn Dance Theatre dancers, and long-time collaborators Anna-Alisa Belous (Costume/Scenery), Dan Ozminkowski (Lighting), Joel Wilhelmi (Sound), Zachary Ludescher (Projection).
Choreography: Amanda Selwyn and dancers Dancers: Torrey McAnena (rehearsal director), Michael Bishop, Nolan Elsbecker, Alisa Gregory, Manon Hallay, Misaki Hayama, Isaac Kerr, Minseon Kim, Ashley McQueen, Sho Miya, Lauren Russo, Evita Zacharioglou