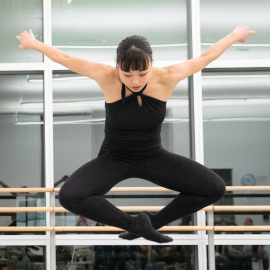 Winter Open Rehearsal
View Live Stream of the Rehearsal
Wednesday, January 15, 2020 | 6:30-8:30 p.m.
The Ailey Studios, 405 West 55th Street, NYC | FREE
Artists and Board of Amanda Selwyn Dance Theatre held a behind-the-scenes view of our creative process. The rehearsal was followed by a wine and cheese reception.
With a focus on reflection and memory, Hindsight will reference motifs and signature structures from two decades of richly layered repertory, by a choreographer known for "Distinctive, off-kilter elegance" – The New Yorker, as well as featuring new choreography exploring the growth possible from looking back at history.  Hindsight will feature 12 dancers, and long-time collaborators Anna-Alisa Belous (Costume/Scenery), Dan Ozminkowski (Lighting), Joel Wilhelmi (Sound), John Narun (Projection).
Choreography: Amanda Selwyn and dancers
Dancers: Torrey McAnena (rehearsal director), Michael Bishop, Nolan Elsbecker, Alisa Gregory, Manon Hallay, Misaki Hayama, Minseon Kim, Ashley McQueen, Sho Miya, Lauren Russo, Evita Zacharioglou