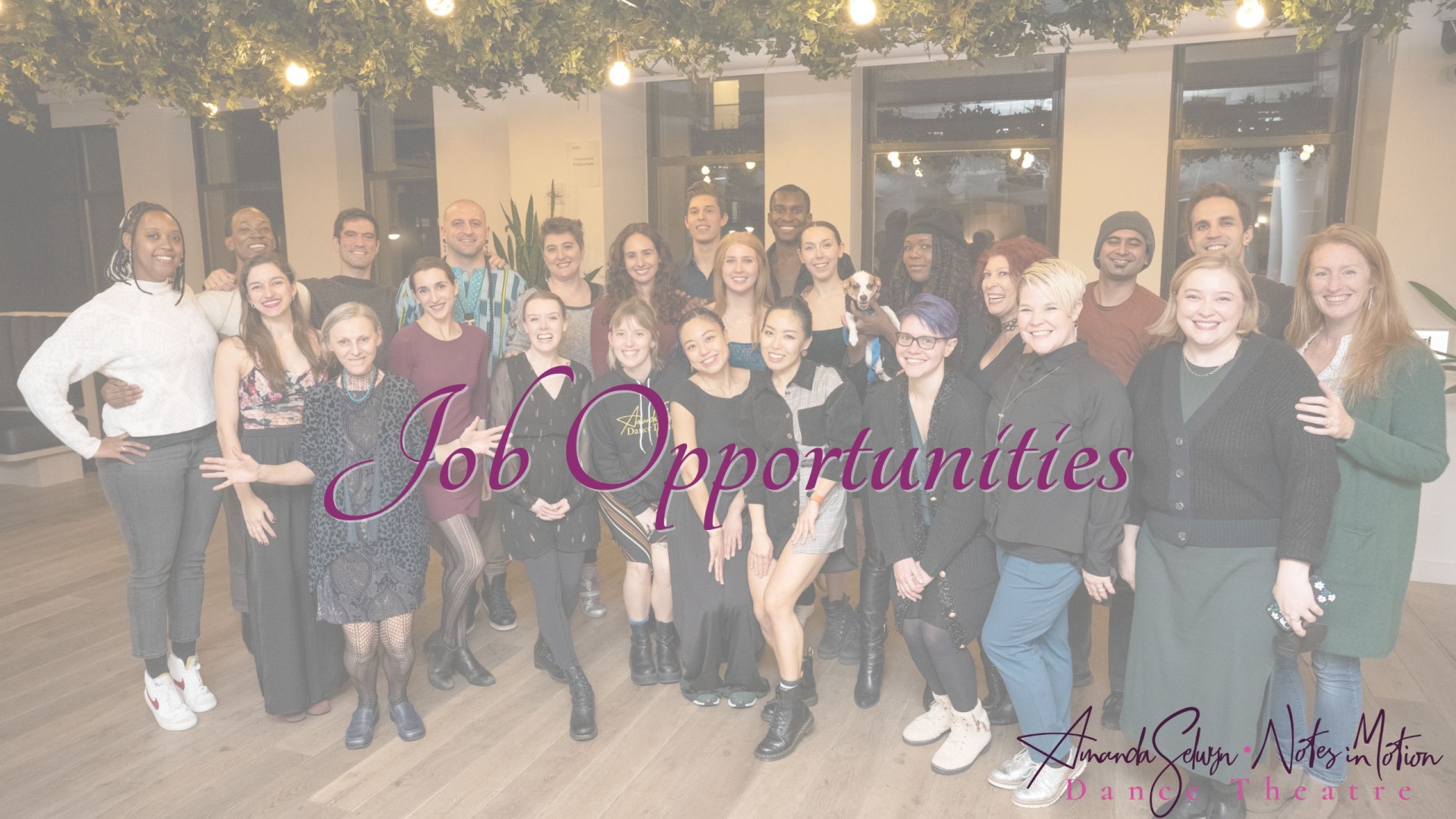 Consider joining our dynamic team!
Openings: Dance Teaching Artist | Intern
Amanda Selwyn Dance Theatre/Notes in Motion is seeking experienced Dance Teaching Artists for immediate placement in ongoing dance and movement residencies and after-school programs in the NYC Public Schools. Teaching artists lead in- school or after-school dance programs in schools throughout the five boroughs of NYC. Since 2000, Notes in Motion has worked with over 120,000 students across the 5 boroughs. Currently we have partner schools in Manhattan, Bronx, Queens, and Brooklyn. Our programs occur within the school day (between 8am-3pm) or after school (3pm-6pm).
Qualified candidates should have:
At least 1-5 days per week available between 8am-3pm (in-school programs) and/or 2:30pm-6pm (after-school programs) for immediate placement experience in a variety of dance forms such as ballet, modern, jazz, tap, ballroom, hip hop, Latin and African Diasporic styles, and/or creative dance training
Bachelors Degree in Dance or Dance Education Professional dance background and experience teaching in NYC public schools (or similar settings) with elementary, middle, and/or high school populations
Choreographic experience in a variety of settings for youth Experience teaching theater, yoga, martial arts, and/or gymnastics a plus
Spanish, Arabic, or Chinese speakers a plus!
Compensation: $45-$50/hr and include paid time for curriculum and professional development.
To apply, please send a substantive cover letter and resume to amanda@notesinmotion.org SUBJECT LINE: Dance Teaching Artist
The Intern is a part–time role for Notes in Motion/Amanda Selwyn Dance Theatre that will support the administrative work
flow of our dynamic, inclusive, and robust dance education programs as well as Amanda Selwyn Dance Theatre's performances and events 10–15 hours/week. The Intern is passionate about advancing our goals of equity, racial justice, and inclusion through the arts. They are an advocate for change, an imaginative problem solver, adept at anticipating challenges, resolving conflict, and moving through red tape to keep programs running throughout the busy school year. This position involves excellent organization and communication skills, and conscientiousness when working with public agencies, theaters, dance presenters, and funders. This is part–time contractor position that involves regular travel to schools throughout the NYC public school system and supporting company–wide events, fundraising efforts, and marketing initiatives
Qualifications
A Bachelor's degree in dance, arts administration, education, or related field or working towards a degree.

Highly organized, technologically savvy, detail oriented

Self-managed, ability work remotely and independently

Possess a vibrant passion for dance and dance education

Excellent interpersonal skills
Responsibilities
Work directly with Executive/Artistic Director, Director of Education, Program Assistant, and Company Manager to support the daily operations (reporting to Executive/Artistic Director) including:

Support the administrative flow of new and continuing dance education programs

Assist with marketing/social media, support evaluation and assessment of programs

Support planning and execution of company performances, culminating events, and tours 

OTHER TASKS AS NEEDED

 
Compensation: Intern is paid $16/hour – invoice submitted monthly on the 20th of the month.

To apply, please send a substantive cover letter and resume to amanda@notesinmotion.org SUBJECT LINE: Intern