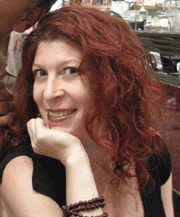 From the Executive/Artistic Director
Amanda Selwyn
What is a crossroad?
the

place

where roads

intersect.

a

point

at

which

a

vital

decision

must

be

made.

a

main

center

of

activity.
Now in the 19th year of the company, the only constant is change. Possibility flourishes in each dancer's artistry, each teaching artist's warmth, in the administrative team's commitment, and in our Board, funders, and volunteers' stalwart support. It is such a privilege to share the joy of dance, offering students and audiences in-roads to discover inspiration, meaning, and joy. As I peer towards our 20th anniversary, I am filled with gratitude for all that we have discovered, for the community we have built, and all that lays ahead.
We are now working on a new work entitled Crossroads scheduled to premiere in June 2019 at New York Live Arts. The piece explores forging into unchartered waters and this ongoing and tumultuous process of self-discovery. Inspired by the work of Magritte and Escher, I am collaborating with long-time scenic & costume designer, Anna-Alisa Belous to shape a surrealistic landscape that highlights these lingering moments at the crossroads, choosing one path or another, and how these moments steer the course of our lives.
We have recently brought on new Board members, new Teaching Artists, and new Administrative Staff into the organization and I am excited about the talent and passion they bring.  Every day, I am profoundly moved by the imagination, expressiveness, and soulfulness of my dancers, designers, teaching artists, administrators, board, and volunteers.  This community has blossomed over our 19 years in ways I never could have dreamed.
Upcoming Amanda Selwyn Dance Theatre Performances and Workshops:
Crossroads World Premiere | Thursday-Saturday, June 20-22, 2019 at 7 p.m. | New York Live Arts, NYC
Green Afternoon VII | Saturday, July 13, 2019 at 5 p.m. | Home Marcia Previti and Peter Gumpel, East Hampton, NY
CUNY Dance Initiative Residency at Baruch Performing Arts Center | March 2020
Company Updates:
Amanda Selwyn Dance Theatre's 20th Anniversary Performance Season will be present at Baruch Performing Arts Center as part of the CUNY Dance Initiative Residency Program — March 2020!
Amanda Selwyn Dance Theatre presented our 18th Annual Performance Season with the World Premiere of Refuge at Mark Morris Dance Center. Check out photos of the Season performance here
Notes in Motion Outreach Dance Theatre has been honored as a Community Partner with the Dizzy Feet Foundation. Our in-school dance education programs are thriving — we are serving 14 schools, over 2,500 students, and offering programs 190 days of the year! View photos of our recent Community Events in partnership with Credit Suisse at PS 63 Manhattan and PS 312 Brooklyn here.